We have an inspiring program planned for this year. Please take a moment to familiarize yourself with our Keynote Speakers, MCs, and Meet the Experts Panelists.
Keynote Speakers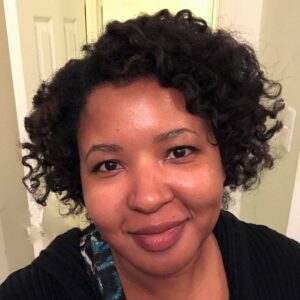 Kathryn Jones
Kathryn Jones is an Associate Professor in the Departments of Pediatrics, Section of Tropical Medicine, and Molecular Virology and Microbiology at Baylor College of Medicine. She is the Director of the Pre-Clinical Testing Unit at the Texas Children's Hospital Center for Vaccine Development, and the Technical Lead for the Chagas Vaccine Initiative. She is also a founding member of the National School of Tropical Medicine at Baylor College of Medicine and serves as the Director of the Tropical Medicine Teaching Laboratory for NSTM. Dr. Jones received her Doctor of Veterinary Medicine from Michigan State University. She also obtained her PhD from Michigan State University in the Department of Microbiology and Molecular Genetics where she studied immune responses to whipworm infections in pigs. Dr. Jones pursued post-doctoral studies at The George Washington University in the Department of Microbiology, Immunology and Tropical Medicine where she studied the immune responses in cutaneous leishmaniasis, a Neglected Tropical Disease, in mouse models. Dr. Jones' current research projects focus on understanding mechanisms of inflammation and fibrosis caused by Trypanosoma cruzi, the parasite responsible for Chagas disease, and developing novel immunotherapies. She has developed several animal models of infection and optimized non-invasive imaging techniques, including echocardiography and electrocardiograms, to evaluate novel therapeutics.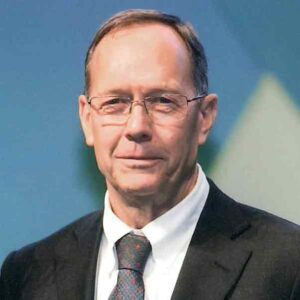 James A. Roth
Dr. Jim Roth is a Distinguished Professor in the Department of Veterinary Microbiology and Preventive Medicine in the College of Veterinary Medicine at Iowa State University and a member of the National Academy of Medicine. He received the DVM (1975) and PhD (1981) degrees from ISU and is a Diplomate in the American College of Veterinary Microbiologists. He worked as a veterinarian in a mixed animal practice from 1975 until 1977. He is the Director of the Center for Food Security and Public Health and the Institute for International Cooperation in Animal Biologics; both are World Organization for Animal Health (OIE) Collaborating Centers. He has received five teaching awards and was named Clarence Hartley Covault Distinguished Professor in 1995. Dr. Roth's primary area of research expertise is immunity to infectious diseases of food producing animals. He has served as the major or co-major professor for 55 MS and PhD students. He has authored or co-authored more than 225 refereed journal articles and book chapters and has edited 16 monographs. Dr. Roth received the Distinguished Veterinary Immunologist Award from the American Association of Veterinary Immunologists, the Distinguished Veterinary Microbiologist Award from the American College of Veterinary Microbiologists, the Public Service Award from the American Veterinary Medical Association, the USDA APHIS Administrator's award for lifetime achievements in animal health and the Senator John Melcher, DVM Leadership in Public Policy Award from the American Association of Veterinary Medical Colleges and was elected as an American Association for the Advancement of Science Fellow for: Distinguished contributions to the field of immunology, particularly for control of infectious diseases in food producing animals. Dr. Roth served on the Interagency Weapons of Mass Destruction Counter Measures Working Group – Animal Pathogens Research and Development Subgroup (2003-2004), and the White House Office of Science and Technology Policy (OSTP) Blue Ribbon Panel on the Threat of Biological Terrorism Directed Against Livestock (2003- 2004), (Chair, Immunotherapeutics Working Group). He has testified before Congressional committees on biosecurity preparedness, on efforts to address bioterrorism and agroterrorism, and on the need for vaccines for foreign animal diseases. Dr. Roth served on the National Science Advisory Board for Biosecurity from 2005 to 2014.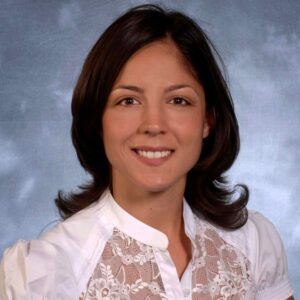 Liara M. Gonzalez
Dr. Liara Gonzalez is an Associate Professor of Gastroenterology and Equine Surgery at North Carolina State University in Raleigh, NC. She received her veterinary degree from Cornell University College of Veterinary Medicine in 2006, completed a large animal surgery residency at NC State Veterinary Hospital and became a Diplomate of the American College of Veterinary Surgery in 2011. She remained at NC State and defended her doctoral thesis in 2014. Dr. Gonzalez' clinical and research focus is on intestinal disease, with a particular interest in identifying improved means to determine tissue viability following severe intestinal injury as well as studying the role of intestinal stem cells in modulating mucosal barrier repair following ischemic damage. Dr. Gonzalez hopes to apply her knowledge and expertise in advanced laboratory techniques to help solve clinically significant problems and further elucidate therapeutic targets that will ultimately improve patient survival.
MC's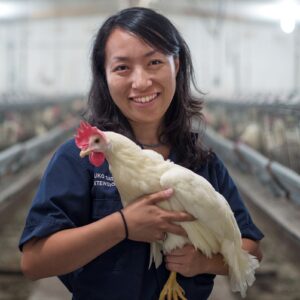 Yuko Sato
Dr. Yuko Sato received her DVM in 2012 from Purdue University. She joined Iowa State University in August 2015 after completing a poultry residency and serves as the university's Poultry Extension Veterinarian and Diagnostic Pathologist. She is a diplomate of the American College of Poultry Veterinarians since 2015. Her extension programs focus on poultry infectious disease diagnosis, prevention, and investigation. Dr. Sato is very active in scientific organizations such as the American Association of Avian Pathologists and United States American Health Association, and is a highly sought out national speaker on poultry conferences. She also serves on numerous advisory boards locally, such as the state poultry associations, as well as nationally, including the United Egg Producers scientific advisory committee.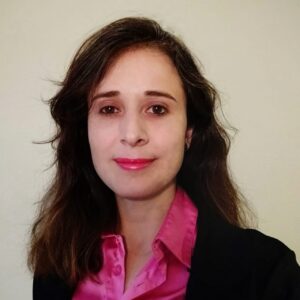 Debora Brito Goulart
Débora Goulart graduated from the Universidade Federal de Minas Gerais in Brazil with a bachelor's degree in Veterinary Medicine. After finishing her bachelor's degree, she undertook an internship as a Minnesota Agricultural Student Trainee. She combined her hands-on learning as a dairy trainee at Golden Oaks Farm with a research experience at the Laboratory for Udder Health at the University of Minnesota, College of Veterinary Medicine. She earned her Master's degree in Food Science from the University of Wisconsin-Madison, with a focus on lactose crystallization in milk protein concentrate. She is currently a Ph.D. candidate in the Department of Veterinary Microbiology and Preventive Medicine at Iowa State University, with a focus on antimicrobial resistance and bacteriology.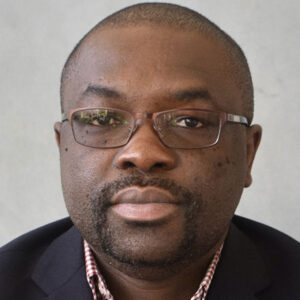 Olufemi Fasina
I studied veterinary medicine at the University of Ibadan, Nigeria. I completed my PhD training in Molecular Microbiology and Immunology with emphasis on molecular virology at the University of Missouri-Columbia, Missouri. I studied parvovirus host cell interactions and gene expression strategies. I utilized adeno-associated virus (AAV) and minute virus of canines (MVC, canine parvovirus 1) as a model to study and elucidate parvovirus RNA processing, DNA damage response, the role of viral non-structural proteins in RNA processing and viral genome replication, in addition to the application of adeno-associated virus (AAV) as gene therapy vectors. We identified and characterized the first parvovirus non-structural protein; NP1 involved in RNA processing and viral genome replication.  I completed anatomic pathology residency at the University of Tennessee, Knoxville and I'm a diplomate of the American College of Veterinary Pathologists (ACVP) with research interest in diagnostic pathology, comparative pathology and virology and molecular pathology.
Experts